Introduction
AL-FALAH PUBLIC SCHOOL came into existence, when some dynamic personalities of Malerkotla took initiative and need of an English Medium school was felt by one and all present . An adhoc committee presented its proposals and recommended to form a trust. Hence, a trust with the name of "AL-FALAH EDUCATIONAL TRUST, MALERKOTLA" formed. The PWB allotted this building to A.E.T. Rent deed and agreement was signed. The school was started with inauguration function on 7th April, 1995.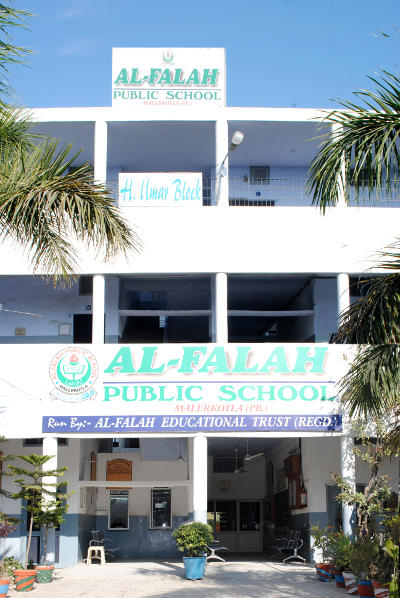 It was the day of happiness and joy for the citizen of Malerkotla particularly for the Muslim community. The school is in existence because of the well-wishers, friends and their generous donations. At present there are 125+ rooms. Each room is well ventilated and brightly lit. The school provides a unique feature by teaching the students Urdu, Arabic (Quran Nazra) and Islamiat along with other subjects. Facilities for games and other "co-curricular" activities are available. Students get full opportunities to participate in such activities. They have access to the facilities and amenities like fully equipped Science labs. for Physics , Chemistry and Biology , well stocked library, hi-tech Computer Labs. and lush green grounds. The School has carved out a niche in the vicinage by showing outstanding and record breaking board results. The dream of having hostel facilities for the sports wing students and an auditorium appears no far away and can come true within next two years, Insha'llah.
news & events
Date Sheet
Annual Function
Annual Prize Distribution Function held on 28th & 29th of November 2018.
Latest Blog Post